Kabel USB do Lightning Baseus Crystal, 2.4A, 2m (czarny)

Kabel tego modelu jest niezwykle funkcjonalny i stylowy. Ponadto korzystanie z niego jest bardzo wygodne. Produkt jest również bardzo wytrzymały i bezpieczny. Na te rzeczy składa się kilka aspektów. Jednym z nich jest szybkie i bezpieczne ładowanie. Osiągnięto to za pomocą nowego modelu rdzenia, ocynkowane wzmocnienia, cztery przewody, i mocy 2,4 A. Kabel posiada także kontrolę temperatury. Umożliwia jednoczesne ładowanie i przesył danych. Jest wytrzymały poprzez wbudowaną tkaninę, wzmocnione złącze i wytrzymałość na wkładanie i wyciąganie wtyczek do 3000 i 10000 razy. Dodatkowo kabel jest stylowy za sprawą materiału i lśniącego wykończenia.
Szybkie i bezpieczne ładowanie
Nowszy model rdzenia zapewnia niższy opór elektryczny i szybkie ładowanie. Aby jeszcze ulepszyć ładowanie, do produkcji kabla zastosowano ocynkowane wzmocnienie oraz kabel miedziany z czterema przewodami. Moc, z jaką może ładować kabel to 2,4 A. Pozwala to na skrócenie czasu oczekiwania na naładowanie telefonu. Kabel zapobiega przegrzewaniu się. Dzieje się tak za sprawą inteligentnej kontroli temperatury. Możesz być pewien, że ładowanie będzie bezpieczne.


Przesył danych i ładowanie jednocześnie
Urządzenie umożliwia jednoczesne ładowanie i przesył danych z szybkością 480 Mbps. Aby to zrobić, wystarczy podpiąć kabel do laptopa bądź komputera. Pozwala to na zaoszczędzenie czasu i czyni korzystanie z kabla jeszcze wygodniejszym.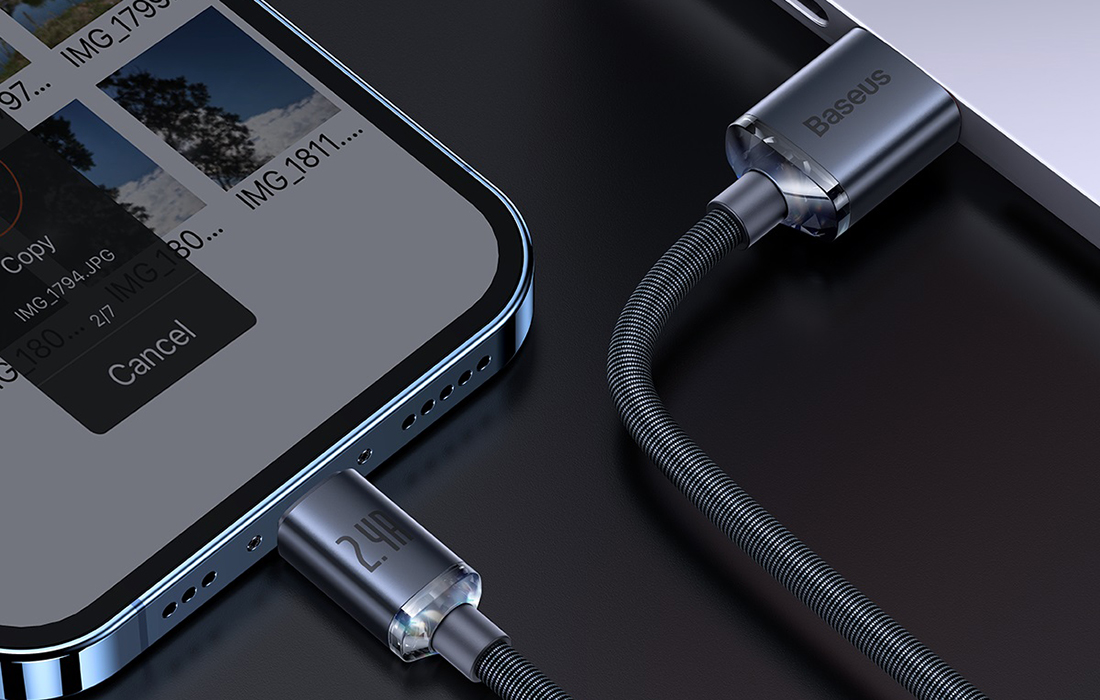 Styl
To praktyczne urządzenie jest nie tylko funkcjonalne, ale też stylowe. Posiada przyjemny w dotyku materiał aluminium i lśniące wykończenie kabla. Dostępny jest także w kilku wariantach kolorystycznych. Możesz wybrać taki, który najbardziej Ci odpowiada i stanowić stylowy gadżet.


Wytrzymałość
Tkanina, która została użyta do produkcji kabla, zapobiega plątaniu się. Dodatkowo jest ona odporna na rozciąganie się. Kabel posiada wzmocnione złącze poprzez ulepszoną ochronę SR. Jest dzięki temu w stanie wytrzymać ponad 10000 zagięć. Zapewne wiele razy spotkałeś się, z tym że kabel do ładowania po jakimś czasie pęka przy wejściu do telefonu. Ten produkt minimalizuje to ryzyko. Wkładanie i wyjmowanie wtyczki również zużywa kable do ładowania. Ten model zajął się rozwiązaniem tego problemu. Wtyczka do telefonu może służyć do 3000 włożyć i wyciągnięć. Druga część kabla ma wytrzymałość do 10000 załączeń.


Specyfikacja
| | |
| --- | --- |
| Marka | Baseus |
| Model | CAJY000101 |
| Typ | USB do Lightning |
| Materiał | Stop aluminium + tkany oplot |
| Natężenie | 2,4 A |
| Prędkość transmisji | 480 Mbps |
| Długość | 2 m |
| Kolor | Czarny |