Słuchawki bezprzewodowe TWS Havit TW959
Bezprzewodowe słuchawki Havit TW959 dostarczą Ci niezapomnianych muzycznych wrażeń. Przetworniki 10 mm zapewniają doskonałą jakość dźwięku, a łącze Bluetooth 5.1 gwarantuje niezawodne połączenie z ultraniskim opóźnieniem nawet 65 ms. W pełni naładowane urządzenia mogą pracować przez około 5,5 godziny. Słuchawki są przy tym niezwykle wygodne i mają stopień ochrony IPX4.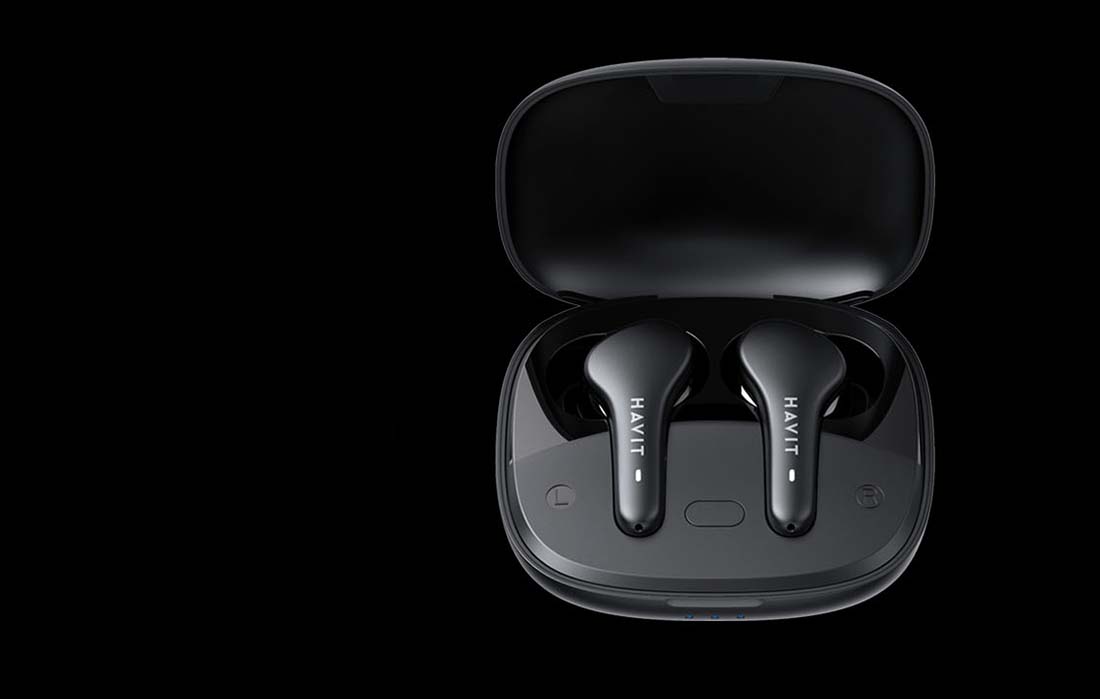 Długi czas pracy
Słuchaj muzyki przez około 5,5 godziny na jednym ładowaniu lub rozmawiaj przez telefon przez około 5 godzin. W skład zestawu wchodzi też etui ładujące z akumulatorem o pojemności 300 mAh, które pozwala wydłużyć czas pracy TW959 do około 20 godzin. Etui jest przy tym niezwykle lekkie i poręczne - bez problemu zmieścisz je w plecaku, torebce lub nawet w kieszeni.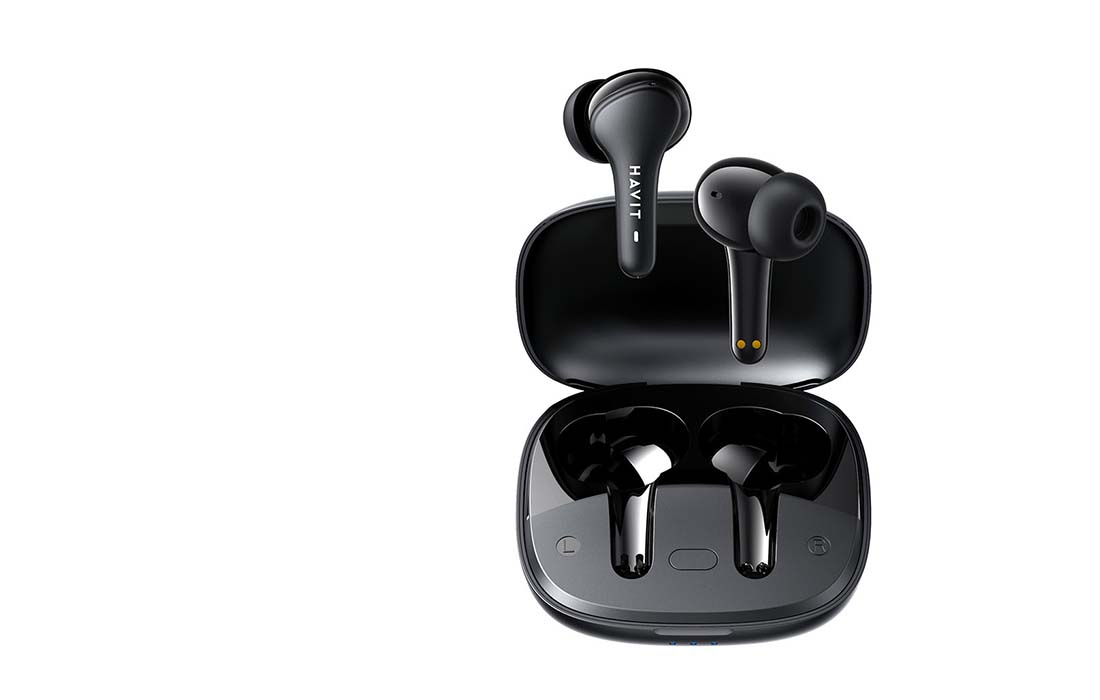 Ergonomiczne i wodoodporne
Słuchaj muzyki, kiedy tylko chcesz - w podróży, w pracy czy na treningu. TW959 są niezwykle lekkie i wygodne. Świetnie leżą w uszach i z nich nie wypadają, nawet jeśli dużo się ruszasz. Co więcej, stopień ochrony IPX4 oznacza, że słuchawki są wodoodporne - niestraszne im krople potu czy deszczu.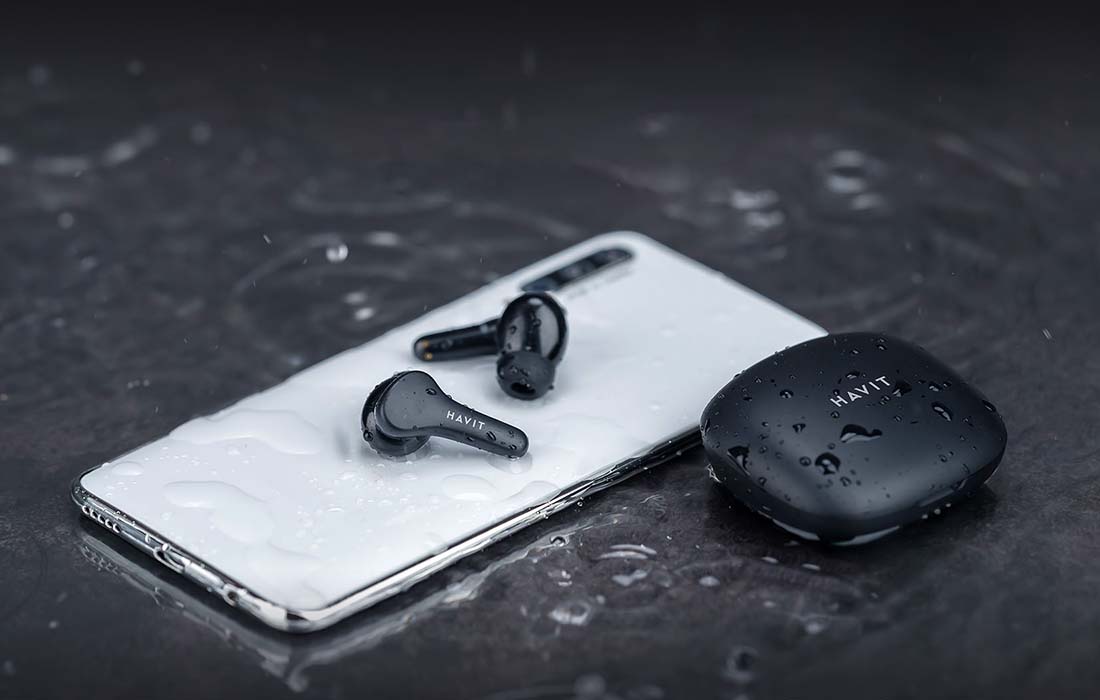 Doskonała jakość dźwięku
Ciesz się podkreślonym basem i niesamowitym bogactwem szczegółów. Słuchawki zostały wyposażone w dynamiczne przetworniki 10 mm, które zapewniają fantastyczną jakość dźwięku. Odkryj nieznane wcześniej detale swoich ulubionych piosenek lub zanurz się w świecie filmu czy gry - TW959 dostarczą Ci niezapomnianych wrażeń.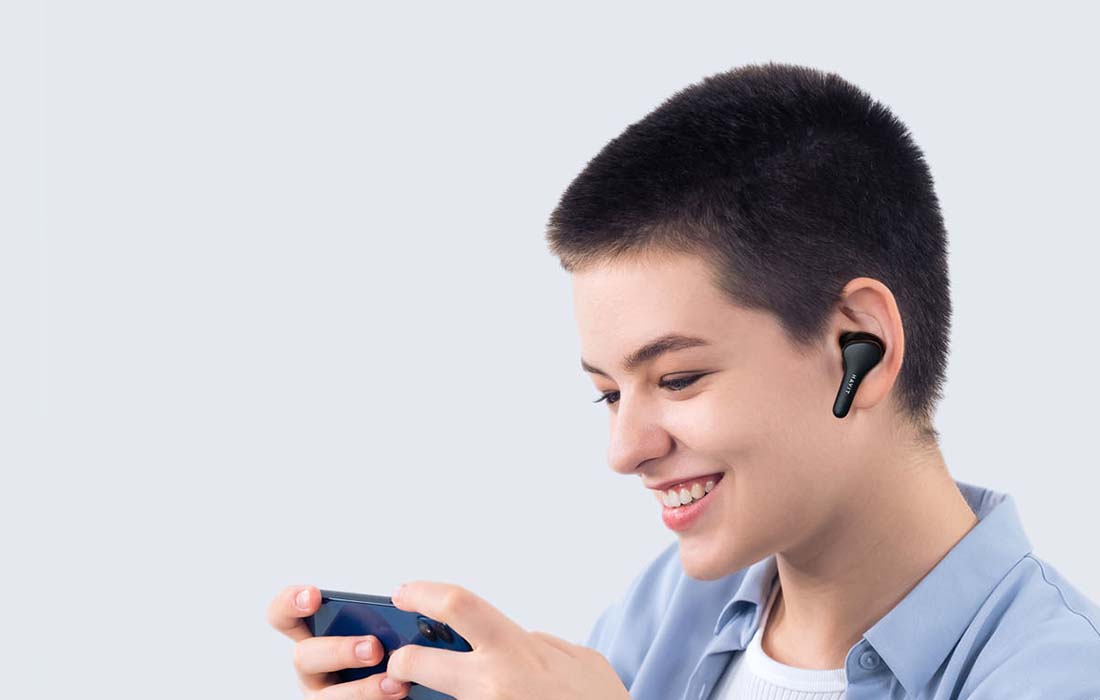 Niezawodne łącze Bluetooth 5.1
Jeszcze szybsza i stabilniejsza transmisja? Z Bluetooth 5.1 to możliwe! TW959 zapewniają niezawodne połączenie bezprzewodowe z ultraniskim opóźnieniem nawet 65 ms. To oznacza, że możesz bez przeszkód grać w gry i oglądać filmy. Ponadto został wprowadzony udoskonalony tryb "master-slave", który pozwala na połączenie z telefonem każdej słuchawki niezależnie, dzięki czemu możesz używać osobno zarówno lewej, jak i prawej.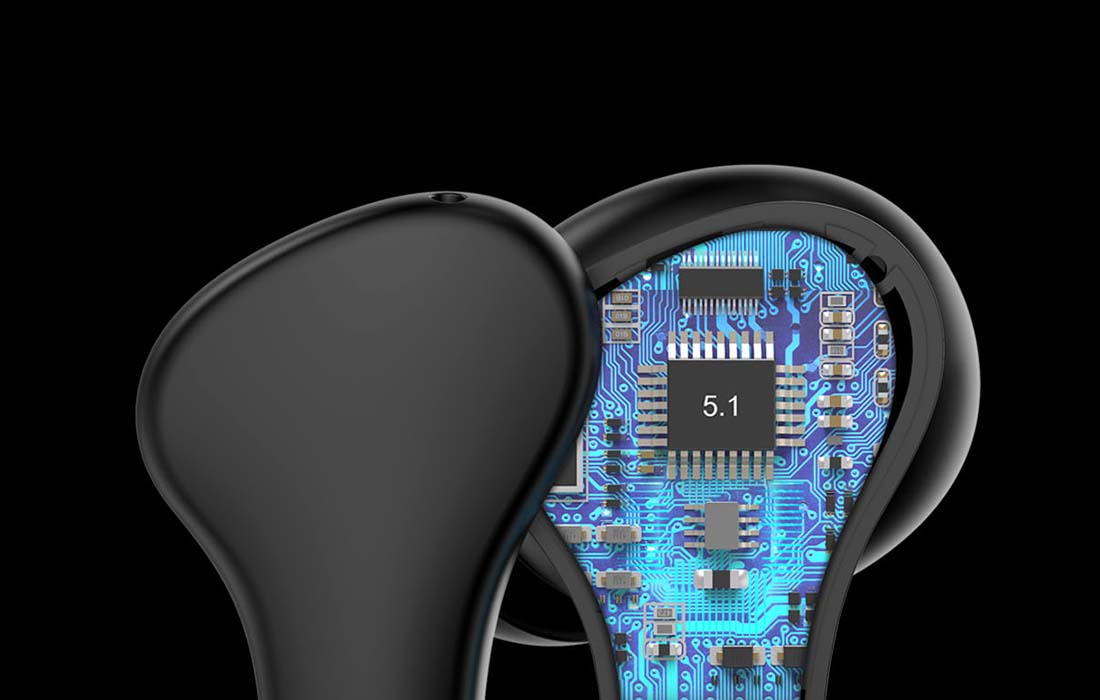 Przyjazne użytkownikom
Obsługa słuchawek jest bajecznie prosta i przyjemna. Intuicyjne panele dotykowe zapewniają wygodny dostęp do ich najważniejszych funkcji - już nie musisz za każdym razem sięgać po telefon! TW959 zostały też wyposażone w zaawansowany czujnik Halla, a etui ładujące ma wbudowany przycisk Reset.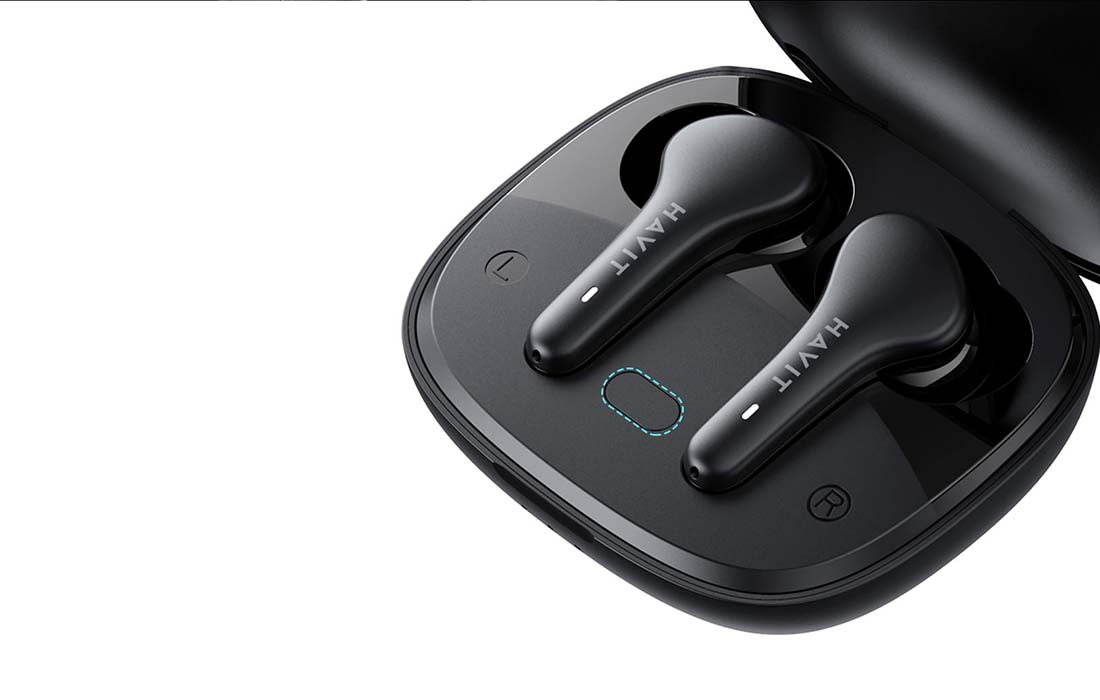 Szeroka kompatybilność
Nieważne, jakiego smartfona czy tabletu używasz - z Havit niemal zawsze możesz cieszyć się najwyższą jakością dźwięku. Słuchawki TW959 są kompatybilne z większością popularnych urządzeń dostępnych w sklepach. Doskonale współpracują z systemami Android i iOS. Problemy z kompatybilnością już nie będą Cię irytować!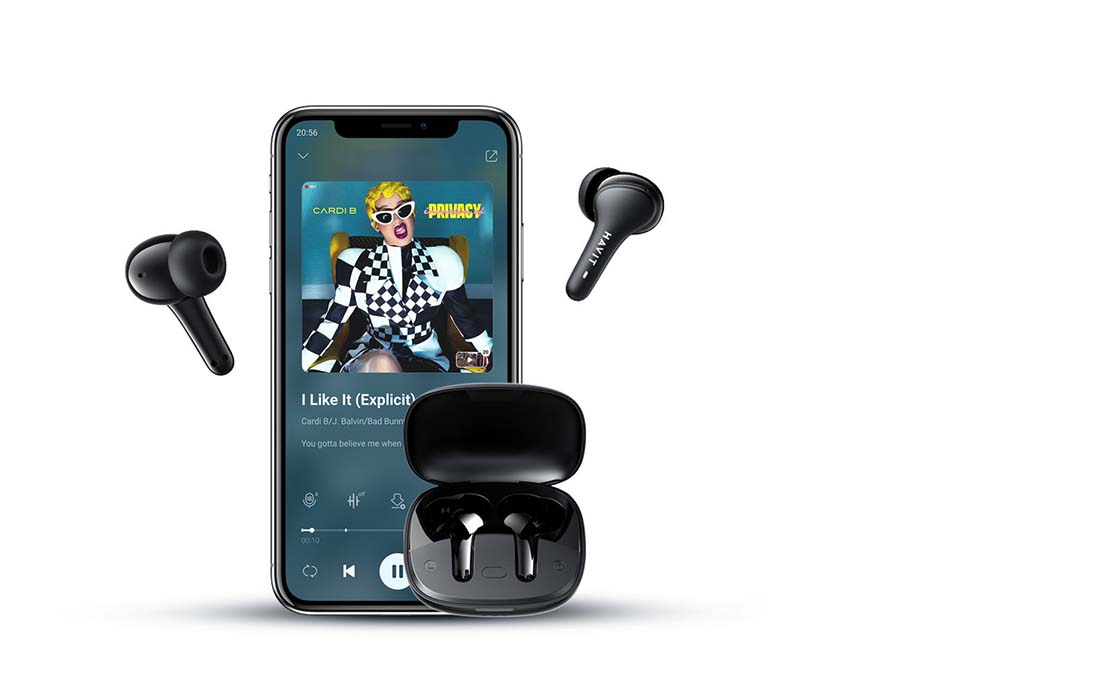 Specyfikacja
| | |
| --- | --- |
| Producent | Havit |
| Model | TW959 |
| Chip | JL6976 |
| Przetwornik | 10 mm |
| Wersja Bluetooth | 5.1 |
| Opóźnienie | 65 ms |
| Pojemność akumulatora słuchawek | 40 mAh |
| Pojemność akumulatora etui | 300 mAh |
| Czas odtwarzania | Ok. 5-5,5 h (średni poziom głośności) |
| Czas rozmów | Ok. 5 h (średni poziom głośności) |
| Czas ładowania słuchawek | Ok. 1,5 h |
| Czas ładowania etui | Ok. 2 h |
| Port | USB-C |
| Wodoodporność | IPX4 |
| Kompatybilność | Android, iOS |
| Kolor | Czarny |